Rani Singam
Shop
My Muse - Live
A 14-song album recorded at Rani's sold-out show at the iconic Victoria Concert Hall Singapore on 6 April 2019. The concert was also performed in collaboration with Hong Kong's premiere chamber group Ensemble Transience at the Hong Kong Performing Arts Centre. Calls from the audiences for the music to become commercially available led to the birth of "My Muse – Live". The album is Rani's first crossover live album.
The recording showcases the breadth and depth of Rani's craft and a world class ensemble comprising string and jazz quartets led and arranged by Chok Kerong who is one of Rani's longest standing musical partners. The instrumentation varies from the full ensemble, to the jazz quartet to a stripped-down piano-vocal duet.
There is something for everyone in this album. The concert was billed "My Muse - the music movie of our lives" as it centred on the stories of mankind. It was presented seamlessly in a tapestry of music, narration and poetry too. The album covers a wide spectrum of music ranging from "Remember, The Love Theme from Cinema Paradiso" to the Bee Gees' "How Deep Is Your Love" as well as Chok Kerong-Rani Singam original compositions.
A feast for the senses for the discerning music lover!
© Inflexion Lines 2020
Produced by Rani Singam & Chok Kerong
Recorded Live at the Victoria Concert Hall, Singapore
Recorded by Varian Tan/Media Variants
Mixed by Uthaiyan Kumanan/Black Beard Audio
Mastered by Katsuhiko Naito 
---
My Muse
This single release is a brilliant re-imagination of the piano-vocal duet "My Muse" from the album Contentment. Rearranged by Chok Kerong, this recording features the finest musicians based in Singapore.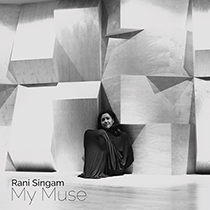 ---
Contentment
Contentment has been lauded by critics as contemporary and innovative vocal jazz. It comprises mainly original compositions written by Rani Singam and Kerong Chok. This marks Rani's debut as a producer and is a showcase of her songwriting skills.
---
With A Song In My Heart
Rani Singam's debut album of jazz classics earning her recognition as an authentic jazz singer. The album was rated 4/4 in O's Place Jazz Newsletter 2008, a leading jazz publication in the United States.